Home Learning Nursery
Hello everyone! We trust that you are all keeping well! We can't believe it's already been almost two months since we've last seen some of our wee ones and we are missing them all terribly. This is a strange situation as we find ourselves in, but remember we are in this together! We know home schooling is difficult especially since parents are also working from home and maybe home-schooling more than one child. You are going a great job! We are so proud of you all.
We have loved keeping touch with you all through phone calls, texts and e-mails and we know that your children are thriving. They are certainly keeping busy! We will continue to include ideas and activities on this page over the next few weeks. Please don't feel under pressure to complete lots of activities daily.
The most important things to do with your child during this time are to:
1- Play with them at home and
2- Read a story to them everyday. l
During this time, we will continue try our best to ensure that your children continue to learn and develop. Now is a great time to slow things down and just PLAY with your child. Stay at home and playing daily, whilst talking and interacting with them is a great way to continue developing their personal, social and emotional skills, language and communication skills, all the while having fun! Continue to read to your child daily, and revise all of the nursery rhymes which they have learned over the past few months. The importance of physical activity cannot be stressed enough. So, where possible, get outdoors (even to the back garden) and get those children moving!
Parents/guardians, please feel free to email us, using the addresses below should you have any questions or queries. If possible we would love to see photos our wee ones having fun and enjoying their activities!
But above all, for now we ask be kind to yourself! Stay strong, enjoy lots of cuddles, look after each other. Stay safe!
Mrs D Molloy, and Miss AM Mc Callion.
Below are some more ideas for you to continue to develop your child's skills, related to the six areas of the nursery curriculum. We have included an example of a daily routine which you may choose to follow.
Personal, social and emotional development
During this month we as we celebrate love (St Valentine's Day), the most important thing you can do with your wee ones is to create a sense of well-being and security. Many children may be anxious and worried about what's going on, they are still trying to figure out this situation. Help them to express their feelings and emotions and praise them when they use words to express their feelings. Sing songs to help them how to express their feelings for example, If you're happy and you know it.....(see our February songs). Often in nursery, they talk about how they feel during circle time activities. Sometimes, they like having a teddy/puppet or their favourite toy to talk to help to get their feelings out. As you all know, a chat and a cuddle is the best medicine of all! A very helpful sight 'Cosmic Kids' on YouTube is a channel dedicated not only to the physical health of children, but also to their mental health and well-being. At Cosmic Kids the children can learn relaxation techniques and yoga. More significantly they can learn how to deal with their feelings and emotions. It is definitely worth having a look!
YouTube lots of different programmes about emotions and feelings. For example: Smile and learn. Emotions for kids. Baby A Nursery Channel-Feelings and emotions When I'm feeling loved.
Just type in feelings and emotions and you will find lots of songs and stories to share with your wee ones.
Also this month, continue to ask your child to help with easy tasks around the house. This will help them to develop a sense of pride and achievement on completion of the tasks. When children contribute to family life, it helps them feel competent and responsible. For example, you could ask him/her to set out the cutlery for dinner time (as our helpers do in nursery), to tidy up their toys/books after play time, to help to brush/hoover the floor, to pair socks together and to help with putting away groceries etc.
Give them plenty of praise for their efforts. Tell them how wonderful and helpful they are. This will do wonders for their self-esteem. They will grow 10ft tall!
Continue to encourage your child to develop their sharing and turn taking skills. Playing family games is a great way to encourage this. Your child will benefit greatly from playing games together with the family. Not only does it encourage discussion, playing games will develop their collaborative play skills (being able to play with others) and will develop conflict resolution (being able to sort arguments and disagreements out by themselves). Continue working on their self-help and independence skills. Please allow them to do as much as they can for themselves as they really enjoy this (e.g. dressing, undressing, putting on and taking off shoes...).
Language development
Our topic for this month is 'Loving and Caring' with a particular focus on families, emotions, love and bodies. (see February news letter which has been uploaded onto this page also). Key words in relation to our monthly topic are: family, Mammy, Daddy, sister, brother, granny, granda, uncle, auntie, cousin, friend, emotions, happy, sad, surprised, upset, afraid, heart, love, caring, sharing, hugs, kisses, body, parts of the body, healthy eating, sleep/rest, exercise etc. Chat to you child about themselves and about the people they love. Talk about how they feel loved and how they show love to their families and friends. Give them lots of opportunities to express how they feel in different situations.
We are also continuing to develop, talking and listening skills (particularly listening skills). Listening when someone else is talking. Mark making and learning now that we write for a purpose (children can mark make with literally anything e.g. sticks, mud, paint, chalk, pencils, pens, crayons... Allow opportunities for them to continue doing this at home).Developing memory skills-e.g. put out three toys, take one away. Can the child remember which one has been taken away?
Most importantly continue to read a story to your child everyday! Not only an enjoyable experience for you both but it's a chance to further develop their expressive language skills and enhance their vocabulary. Continuing with our theme of 'Love and Caring' there are some beautiful books ie 'Guess How Much I Love You' , Will You Be My Friend ? (by Sam Mc Bratney), 'The Rainbow Fish' (Marcus Pfister) etc which are perfect examples of expressions of love and caring! Our February songs and rhymes have been uploaded to this page, and you can sing these songs and say these rhymes daily with your wee one.
Mathematical development
This month we are focusing on the heart shape. Encourage your child to look out for and point out heart shaped objects, both in the home and outside. How many can they come up with? Play "I spy" looking for shapes (heart, circle, square, triangle and rectangle), as well as colours associated with St Valentine's Day, e.g. pink, purple, red.
Give your child opportunities to count during their play activities. Count their toys, touching each one with their finger as they say the number. 1, 2, 3, 4 ….
The opportunities for counting are endless! Your child can use things in their environment to count e.g. buttons, pasta shapes, flowers, dried beans, people!! Make a set, small sets at first, ask your child to count each object in that set. (be careful they sometimes runaway with themselves and count too quickly!) Ask them to use their finger to touch each object as they count. They will gain a lot of confidence in getting it right. Before you know it, they will want to count everything!
Begin to recognise and name numbers in their environment.
Have a look at some of the maths apps that have been added to support mathematical skills this month.
We are continuing to learn about the passage of time and the days of the week. Ask your child "Which day comes after?" "Which day comes before?" (The Very Hungry Caterpillar book is also good for reinforcing the days of the week!)
We are continuing to develop positional language (e.g. in, on, in front, behind). You can use props such as teddies/dolls to create games for positional language development. E.g. Put the teddy under the chair. Where is teddy? etc.
Physical development
Physical skills come under two categories:
Firstly, Gross motor skills - All large-scale movements such as walking, running, climbing, hopping, balancing, co-ordination etc.
To develop gross motor skills, you could:
Tune into Joe Wicks and GoNoodle on YouTube.
Make obstacle courses.
Play hopscotch.
Skipping activities with a rope.
Go on a trike, bike or scooter. (WEARING A HELMET)
Throwing and catching balls of different sizes balls. Try throwing at a target or throwing a ball through a hoop.
Wheelbarrow walks where the child walks on their hands whilst an adult holds their legs straight. Great for developing core and arm strength.
If you don't fancy a workout with Joe Wicks here is a simple workout for kids and kids at heart. Set a timer for 45 seconds for each activity, allow 15 seconds rest and start the next activity. It's lots of fun and everyone at home can take part. Enjoy!
Frog Jumps-Hop, hop, hop! Up and down like a frog.
Bear Walk-With your hands and feet on the floor, hips high, walk left and right.
Gorilla Shuffle-In a low sumo squat, use your hands to balance and shuffle around the room.
Starfish Jumps-Jump up and down spreading your arms and legs wide (jumping Jacks)
Cheetah Run-Run on the spot as fast as you can, just like the fastest animal in the Sahara.
Crab Walk-Sitting down, place your palms on the ground behind you. Lift your hips and crawl on your hands. (For the more flexible and adventurous!). Or simply walk side-ways!
Elephant Stomps-March on the spot, stomping your feet as you can.
Secondly, Fine motor skills e.g. using small tools, developing pencil grasp, scissor skills, fitting materials together and taking apart etc).
To develop fine motor skills, you could:
Continue to give opportunities for your child to mark make using pens, pencils, chunky markers, brushes, sticks etc.
Observe their grip and control of these tools, and model/correct grip where necessary.
Allow them to use scissors. Model the correct grip and show your child how to snip/cut pieces of paper.
Dough is useful also for the beginning of scissor skill development. Allow your child to cut the dough (a very simple recipe for making dough is posted below in "The Arts" section).
Construction play-e.g. Lego-Allowing your child to put small pieces together and pull apart whilst making a model.
Threading- Thread buttons onto pipe cleaners
Use (uncooked) spaghetti, stick into Playdough and thread Cheerio's onto them. (can use to colour sort)
Use string and Cheerio's to make a necklace (a great opportunity to use the different colour of oats to make simple patterns on you necklace).
Squeezy bottles- Allow your child to use squeezy bottles to paint, we did this in nursery, and they loved it. Though we did find it would be a good activity for outside as it can get quite messy!
Getting dressed up with buttons and zips.
Use clothes pegs (let them help you to hang out the washing!).
Paper folding-make paper aeroplanes to throw at a target.
Using stamps on paper or dough (make patterns with the stamps).
Using stickers, pulling objects off sticky paper.
Use tweezers to pick up small objects e.g. water beads to transfer them from one container to another. Create a 'tinker box'. Put in broken items they can 'fix' using real tools-wood, nails, glue, nuts and bolts, loose parts etc. (adult super vision needed of course).
The Arts
The Arts include being creative, role-play/imaginative play, construction/model making activities and music/singing activities. All of these activities are self-explanatory, and as the adult all you need to do is provide a few resources/materials and just watch the fantastic ideas your child will come up with!
The children may like to draw or paint the things they are learning about this month: lots of hearts! people they love, their families, themselves etc.
Dough is a great resource for developing all of the above as well as strengthening the muscles in those little hands (which will prepare them for writing development in Primary 1).
A very simple recipe includes:
One cup of flour
half cup of salt
half cup of water
add food colouring (any colour)
mix together and Hey Presto!
Moon sand is another malleable material that your child will enjoy playing with. Its magic! It holds its shape like Playdough, however, it crumbles like sand but can stick together to make sandcastles!
Moon sand recipe:
8 cups all-purpose flour
1 cup baby oil
Food colouring (your choice)
Essential oil for fragrance
Pour lour into a large plastic container
Add food colouring and fragrance
Put the oil in the centre and mix together until the flour sticks together and you can squeeze it!
Give your child moulds, scoops, cookie cutters and junk material and watch them have hours of fun.
Share this experience with you child, its easy and fun and you can develop the sequencing language whilst doing it.
Sing the songs for February (included on this page)
The world around us
During the month of February, we are continuing to learn about seasonal change. Talk to your child about the changes in the world around us. Compare the signs of Winter to other seasons. Talk about how the weather changes. Ask your child questions: What clothes do they wear in Winter? What activities can we do during the Winter? Help to develop their knowledge about themselves and their bodies. Enjoy looking at photos of them when they were babies and talk about how they have changed. Chat about how to take care of babies. In nursery the children love taking care of the baby dolls. They love to pretend to feed, change, bath and play with them and of course they give them lots of cuddles!
Talk to them about their bodies, how they work and chat about the importance of taking care of their bodies by eating a healthy balanced diet, by exercising and the importance of a good nights sleep.
Let them explore the world around them, enjoy daily walks or playing in the garden. This would be a great time to allow your child to explore messy play. Our children love mud, soil, slime, clay, dough, glitter, sand, water. Just add a few utensils and again, watch their little imaginations come to life! They love exploring and getting messy! Remember a messy child is a happy child!
CBeebies TV programme 'Come Outside' is an educational programme which allows the children to explore and explain aspects of everyday life-everything from to how things grow, the habits of hedgehogs to how bread is made! The children love it in nursery, it is fun to watch and educational at the same time. Definitely worth having a look!
This month we celebrate St Valentine's Day and Pancake Tuesday.
Enjoy making pancakes with your wee ones!
Basic pancake recipe Ingredients: Equipment: 100g plain flour sieve 300ml milk large mixing bowl 2 eggs scales 1tbsp caster sugar measuring jug Selection of your measuring spoons favourite toppings wooden spoon frying pan Method: 1. Sieve the four into the mixing bowl. 2. Crack the egg into the bowl. 3. Pour the milk into the bowl 4.Stir vigorously until smooth. 5. Pour a spoonful of the mixture into a hot frying pan. 6. Turn the pancakes when the bubbles begin to pop. 7. Serve with your favourite topping. 8. Eat and enjoy! (lots of pancakes recipes online) HAPPY ST. VALENTINE'S DAY AND PANCAKE TUESDAY!
If you need any help or support with your child's learning during the next few weeks, please contact your child's teacher by ringing the school or via the teacher's email. We would like to stress, that we are always here to support you all throughout this time.
Take care and stay safe.
Mrs D Molloy, and Miss AM Mc Callion.
Daily Routine
8:00-9:00 am- Wake up/breakfast time
9:00-9.30 am -Get physical! -Check out Joe Wicks (fitness coach) on YouTube, or GoNoodle -The children enjoy the dances/work outs on this! (Also, on YouTube).
9.30-11.30 am- Play time-Play with their toys, or even better any "loose parts" that you have lying around-put these out for your child and just watch their imaginations come alive! E.g. ribbons, feathers, egg cartons, shells, wool, baking trays, kitchen utensils, brushes, paint, cardboard, boxes, to name a few...
11.30-11.45am-Tidy up time-Give your child the responsibility of tidying up after themselves.
11.45-12.00 pm-Story/song time-Allow your child to pick a story and read it with them (even if it's one they have read 100 times)! Sing 5 nursery rhymes with your child.
12.00pm -Lunch time
1:00pm-2:00pm- Get creative-Gather a selection of "junk art" materials and allow your child to get creative. e.g. cereal boxes, wool, cellotape, glue, markers, pens, pencils, chalk, pasta, empty containers, tubs, etc.
AND/OR
Physical activity-Get some outdoor play. E.g. In the back garden! Examples of activities...Hop on right foot, hop on left foot, 5 jumping jacks, bear crawls, running, jogging, walking, climbing, hopscotch, skipping...
These are only examples of a daily routine that your child will be able to follow given their age and stage of development. Feel free to add to it or adjust as you see fit. Don't stress, your child will lead the way. They will let you know what they want or do not want to do! Go with the flow. They will let you know what they are interested in. If they are engaged in what they are doing, they are learning.
During this period of remote learning, feel free to make use of these wonderful apps and websites! They have many invaluable ideas and activities to keep your wee ones entertained, as well as helping them to continue to learn and develop their skills! You have all been working so hard, well done!
Suggested websites and apps include:
Websites:
Crickweb early years
Mother Goose
CBeebies
Twinkl (https://www.facebook.com/TwinklCares/)
CosmicKids on YouTube
www.jojingles .com (you will also find Jo Jingles on You Tube)
Useful apps:
Edukids
Alphablocks
Numberblocks
Cbeebies story time
Cbeebies play time
CBeebies get creative
CBeebies go explore
Puppet pals
Match a balloon
BlobbleWrite
Memory Match
abcPocketPhonics
Shape Puzzle HD
Love to learn
sorting puzzles
Matching game
Friend shapes
Websites specifically to help parents. Hopefully you will find them beneficial!
www.education-ni.gov.uk/articles/support-parents-and-pupils
www.ideasforactiveminds for ages 2-4, a wonderful resource! (Written by a primary school teacher, who is a parent herself, to help parents with young children through lockdown).
Mrs Molloy & Miss McCallion
A message from our assistants
Hi girls and boys! We hope you're all having a fun time at home with your families. We all miss you so much and hope to see you all soon. Stay happy and be safe. Make good choices!
Sending you all big hugs, from Miss McCaul, Mrs McGonagle and Mrs McCann.
News
9th Nov 2021
We are so proud of our children and staff on all the work that they put in to helping...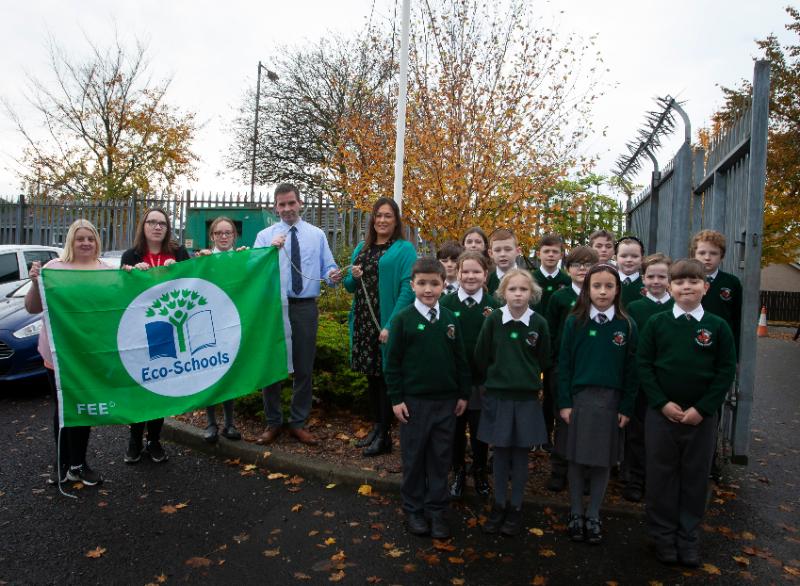 6th Oct 2021
The SEN Code of Practice is an important guidance document that all schools must...
Greenhaw Primary School,
Carnhill Estate,
Londonderry
BT48 8BA
Tel:028 7135 1908